We don't need more money, we don't need greater success or fame, we don't need the perfect body or even the perfect mate – right now, at this very moment, we have a mind, which is all the basic equipment we need to achieve complete happiness.
Eco-Consicous
We treat Mother Earth with respect and care.
Digital Nomads
The world is a village we wish to explore and share.
Mindfully Healthy
Our body is our home. We keep it clean and fresh.
Communicative
We love to meet people, learn new cultures and make new friends.
Hello! We are Luciana and James!
Our base is in Portugal, in the idyllic Sintra, UNESCO heritage site, where we rent our home to go travelling (you can rent our house here).
In June of 2016 we decided to break free from the rat race and reinvent ourselves. Our search for inspiration first took us to the Portuguese island of Madeira for three and a half months, followed by an equal period in Malaysia, mostly on the island of Langkawi. During these seven months we dug deep into our innermost desires and inspirations and discovered our deep concern with environmental issues and realised that our next mission would be to promote conscious living and an eco-friendly travel attitude.
Upon our departure from Langawi we were certain of two things: first, that we were going to return soon to start our new project and second, that in the process we were going to document it.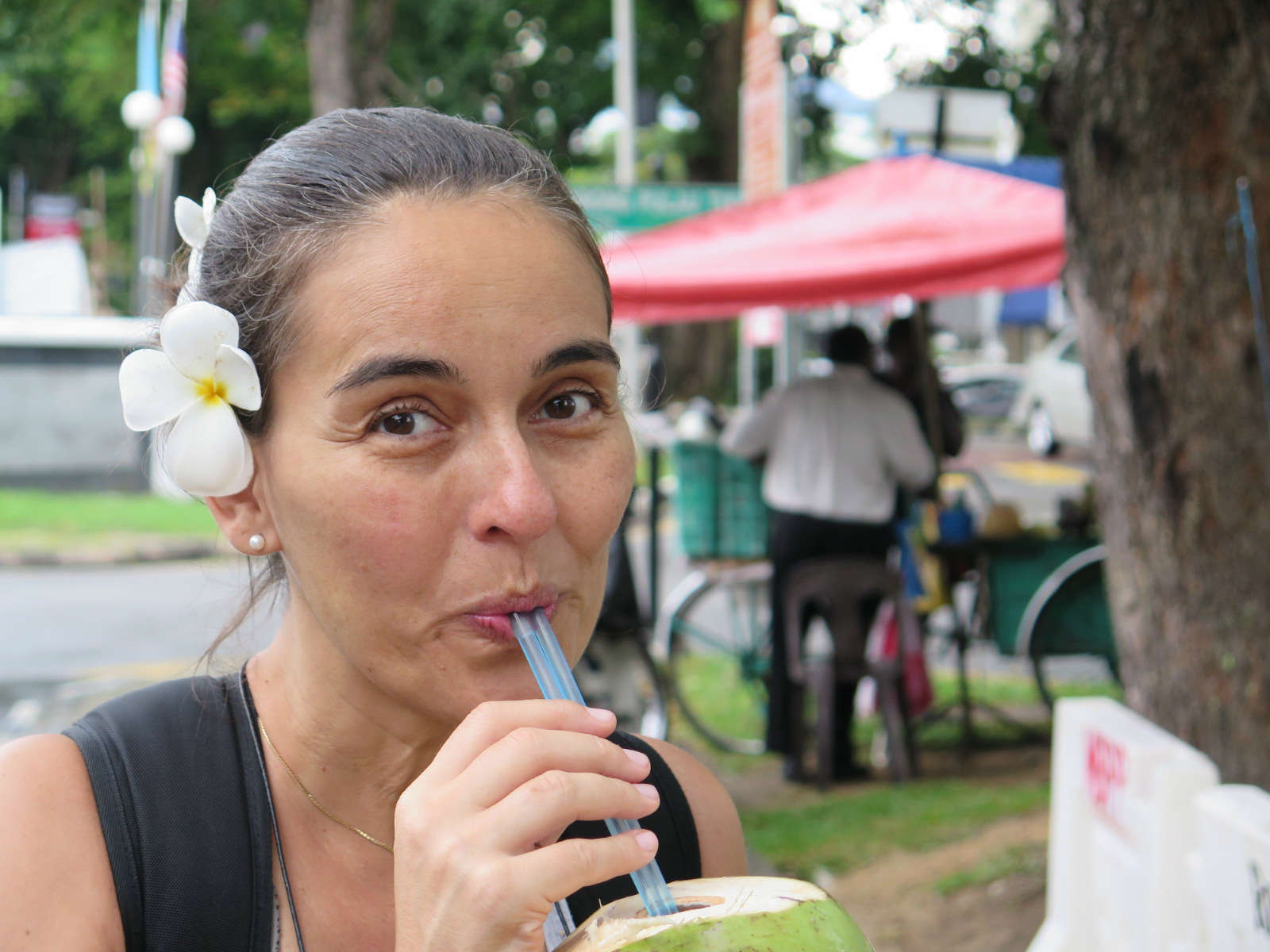 Born in Brazil but raised in Portugal, Italy, USA and Switzerland.
Luciana has been living in Portugal, on and off, for a total of over 30 years, having first moved there at age eight.
An animal-lover, she was vegetarian for 15 years and turned vegan in the beginning of 2017.
She is a soul-search, self-development and self-empowerment advocate in a constant quest for self-improvement. She loves meeting new people and learning about new cultures.
A world-citizen at heart, she speaks fluently Portuguese, English, Italian and Spanish.
Luciana gratuated in from Franklin University, in Lugano, Switzerland, with an International Management degree though her higher education started at Villanova University, in Pennsylvania, while living int the U.S.A..
She has worked for renowed multinational corporations, two start-ups (hers included!) and even family business, always in marketing, management and commercial positions.
 Her latest "professional hobby" and challange is online marketing, including countless hours researching and studying SEO  (Search Engine Optimization) and Efficient Blogging, in order to survive the Internet jungle.
In 2014, during a very stressful work period Luciana had a "calling" to return to yoga practice, which led to the transition of a yogic life.
Her strong passion for writing led her to start blogging and her hirst for exploring the world turned her into a travel blogger.
MOST COMMON EXPRESSION  "I have an idea!"
LUCIANA'S TAKE ON JAMES
James is a wonderful young and lively soul. He is a creative mind and a dreamer at heart. He is ALWAYS in a good mood and is full of energy, projects and dreams.
He has a very special affinity with animals. He loves them and they react to it in a unique way. I had never seen anything like it before! James is a "nature person" so do not put him in front of a computer for too long! He was raised between the beautiful English countryside and stunning beach sides of Malaysia.
Above all, he is my sunshine, my companion, my friend, the person who encourages me and supports my decisions, who puts up with my funny moods, who makes me laugh and doesn't like to see me cry.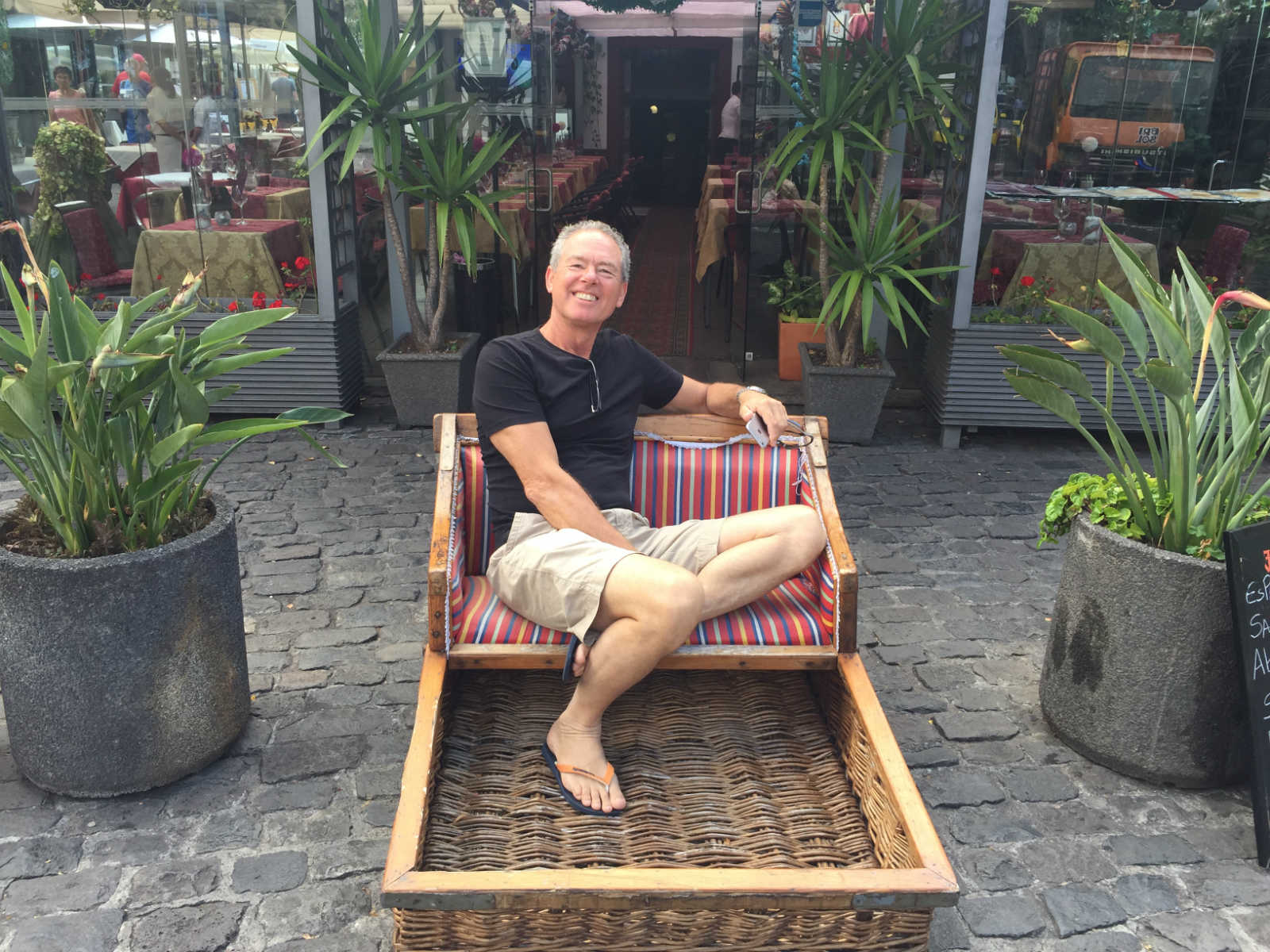 James is an Englishman, born in Suffolk, who lived in London for many years before he moved to Portugal (Algarve and Lisbon) then Belgium and finally back to Portugal again.
As a child, he was partially brought up in Malaysia and although he has been based in Europe most of my adult life, he is still drawn to the mystic east, where he has many roots and memories.
James has been living in Portugal on and off for a total of over 30 years, the first time in the 80's to set up a windsurf school. The windsurfing activity kept him healthy and fit to this day.
Although not an everyday practitioner, James enjoys yoga and would truly like to perfect it.
He owned an interior renovation company for almost 30 years, running teams of workers in Portugal, Belgium and UK. Although he had to close his building company in 2008, the passion for building remained and he is now focused on ecological and sustainable building.
One of his dreams is to spend some time in Bali learning about construction with bamboo.
James is a handy cook who likes dabbling in the kitchen. His new culinary challange is to transition to vegan cooking.
He is  handy when it comes to designing and building anything (Luciana calls him MacGiver!), as he has the skills from many years having his own company. James at his happiest state when doing something constructive.
He enjoys photography and is fully dedicated to his new challenge as "film producer" for findingthebliss.com..
MOST COMMON EXPRESSION "Let's think about it"
JAMES' TAKE ON LUCIANA
Well, this is easy, she is a fun-loving Brazilian who motivates me and keeps me on my toes! Loves music and dancing, though we don't find enough time to go dancing as we used to. She is a great conversationalist who takes a deep interest in getting down to the facts and meaningful talk and gets bored with idol chit chat. She takes no prisoners when telling the truth, she cannot lie or tolerate injustice. When it comes to working nothing stands in her way and she will finish when it's finished even if it takes her into the small hours of the morning, so taking her computer away would be like taking candy away from a kid!!!
All said and done I don't think I know another person with such strong moral values which is to the benefit of all who come in touch with her. She makes friends easily and keeps them forever so there is no fair weather friendship where she is concerned, you are either a friend or not!
A joy to be around.
Here we are!
Ready for 2018 and everything that it has in store for us. We are excited with our new challange and lifestyle and are hoping that you will follow us during our mission.
May The Bliss be with you.
Luciana and James